Mandatory occupational safety requirements since 2013 and still partly unnoticed by companies; the consideration of the psychological burden on employees in risk assessment. This states: "Companies and organisations of all sizes must identify the hazards for their employees that result from psychological stress at work." The risk assessment in larger companies is often carried out by occupational safety officers, but for start-ups and smaller companies does this task represent an additional effort, for that CompanyMood provides relief. But CompanyMood can also ease and supplement risk assessment in corporate groups with continuous feedback.
What does risk assessment of mental stress require?
Psychic stress at work can be caused by a variety of different influences, such as work intensity, teamwork, working hours or spatial factors such as noisy surroundings, poor lighting and an unpleasant climate. A moderate psychological strain at work is acceptable and quite normal. However, if the burden shows signs of negative effects on the health of the employees, appropriate steps should be taken to improve the respective activities or circumstances.
How companies proceed to identify psychological stress factors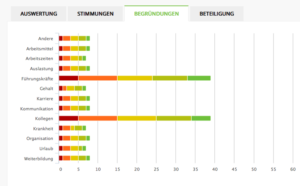 Regular surveys and workshops are recommended in which the burden is recorded and solutions are found. The GDA portal provides detailed information and recommendations for action, which can be downloaded in.pdf format. It is worth taking a look at their side and the area of risk assessment for mental stress. The following steps are necessary:
Definition of activities and areas for testing
Recording and assessing the psychological stress of work
Implementation of measures (if necessary)
Checking the effectiveness of the measures applied
Updating and documentation of risk assessment in case of changed circumstances
These activities are complex and especially in small and medium-sized companies without occupational safety specialists the task is taken over by the management or personnel management. How can HR and management with their already tight schedules cope with another task?
Continuously record, analyse and document hazards
CompanyMood does a lot of work for occupational safety experts and personnel managers to assess the risk of psychological stress. The development of measures and workshops remains the task of the companies, as these vary greatly according to industry and activity. However, CompanyMood makes a decisive contribution to reducing the effort and automatically implementing the required analysis, success control and their documentation. If CompanyMood is used with the standard set of our Reasons tags (reasons), all required areas are available for efficient recording and documentation.

The reasons and their evaluation are marked over time and changes (documented by event pins) can be recorded and their effects made visible. Of course, generated measures and their results are also documented. This is done weekly via a PDF report – which is sent directly to those responsible.
Productivity and motivation decrease due to psychological stress
The measurement and analysis of mental stress is not only suitable for the prevention of health effects. Often mental stress is perceived as normal to a small extent. They have been proven to reduce productivity and motivation. Best examples are the ambient noise or uncomfortable offices, both of which can reduce the productivity of a team. Often improvement can be achieved by small changes. There is a lack of concrete feedback or a dedicated examination of the topic. CompanyMood helps employees and managers to address and recognize these topics.
We have created a Psychosocial-Risks-at-Work-CompanyMood. The pdf can be downloaded here.
You want to test CompanyMood for free? Then register now.
How does your company fulfil the legal obligation to assess the risk of psychological stress?
We are looking forward to your feedback or comments.